Industrial Pipe Freeze Plug Services
Industrial Pipe Freeze Plug Services
-
5.0

out of

5

based on

2

votes
Industrial Pipe Freeze Plugs
International Flow Technologies' (IFT) Industrial Pipe Freeze Services continue to find pinhole leaks in miles of pipelines. We truly find that needle in the haystack. IFT provides freeze plug services on all industrial pipeline systems to locate small leaks nationwide. We specialize in natural gas, crude oil, and petroleum high-pressure pipeline systems. Pipe Freeze services are used to isolate sections of pipelines so hydrostatic testing can be performed on independent sections of pipe.

All pipelines are prepped by using a pipe inspection gauge or 'pig' to perform various maintenance operations on a pipeline system. This process is also known as 'pigging.' Water is then added to replace the fluid to help in the freezing and leak-locating process. Multiple Freeze points can be performed and maintained by IFT's technicians. Service locations are situated around the United States for quick, local response.

By regulation, and upon owners' request, all pipelines in America require continued pressure testing. Because of corrosion and wear, it is important to have an ongoing plan to continue testing pipeline integrity. For pipelines that have many miles between valves, or a leak exists but you cannot find it, Pipe Freezing is the solution.

Pipe Freezing is performed by using liquid nitrogen to freeze the water inside the pipeline. Prior to freezing, the pressure can be brought up to your required test pressure. Water is then introduced into the piping system so it can be frozen. System pressures during the Pipe Freeze process commonly exceed 1000 psi.

Pressure gauges are used between the Pipe Freezes and outside of the freeze locations to test three separate sections of pipe for pressure loss. The section that drops in pressure gives the direction for the next set of freezes. IFT has located very small leaks in many miles of pipelines in short time frames.

Jeff Maichel, President of IFT, says "chasing a minute leak that's only losing a tenth of a pound every twenty minutes is a task our pipe freeze plug specialists are qualified to do here at IFT. We will work tirelessly day and night 'til the leak is located using our very own liquid nitrogen trucks to help expedite finding leaks."

IFT has narrowed down a tiny leak on many mile stretches of crude oil pipeline down to 600' of pipe. 300 feet of pipe was exposed and the leak was promptly located and repaired.

Call us today for our industrial pipe freezing services.

IFT can isolate your pipeline systems, 1/2" - 36", through Pipe Freeze Services. We are capable of working with pressures through 3000 psi.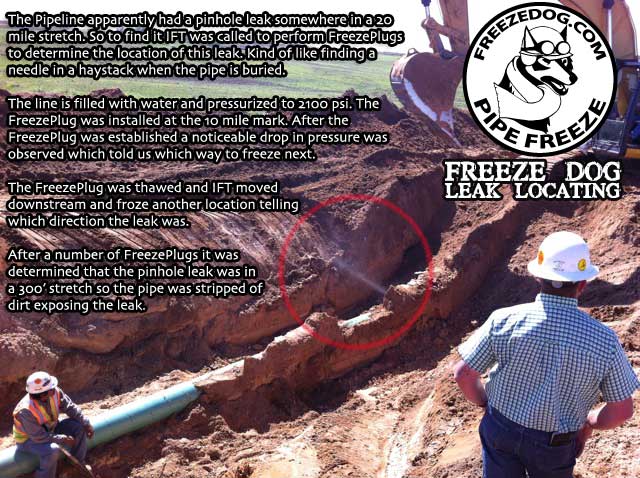 Featured Pipe Freeze Plug Videos
Pipe Freeze Plug Services
8" Pipe Freeze on Natural Gas Pipeline
Featured InDustrial Pipe Freezing Slideshow
Indoor Pipe Freeze Plug Services can be performed on any of the following pipeline system modifications:
By-pass the need to dig up road meters to shut down water
Ultra High Pipeline Pressurized Systems
Valve Installations
Broken Valve Replacement
Pipe Section Replacement
Equipment Isolation
Pipe Branch Terminations
Pipe Relocations
Indoor tight area pipeline modifications

Pipe freezing can be performed on a variety of pipes, including:
Titanium
1/2" to 36" (13mm to 914.4mm) OD
Vertical, Horizontal, Inclined
Out of Round Carbon Steel
Stainless Steel
Aluminum
Lead
Copper
Brass
Internally / Externally Coated
Cement Lined / CMLC